A "Thank You" from your elders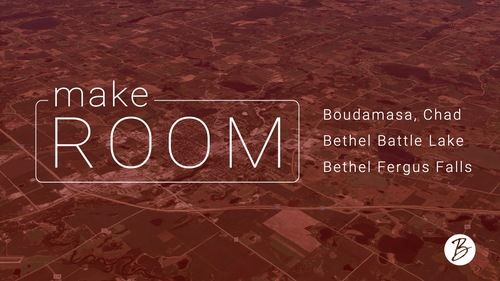 Bethel Family,
You are a joy to serve as elders! The spirit of unity and celebration which characterized our Business Meeting on October 27th was beautiful and inspiring. The approved
Make Room Project
will indeed facilitate and energize our mission to bring the gospel to the lost of Boudamasa, Battle Lake, and Fergus Falls.
We understand there will be challenges ahead as our hearts are tested for readiness to make room in our schedules, in our relationships, at our tables, and in our pocketbook, but "this is the confidence which we have before Him, that, if we ask anything according to His will, He hears us. And if we know that He hears us in whatever we ask, we know that we have the requests which we have asked from Him"
(1 John 5:14-15).
So Bethel Family, as we move forward with the
Make Room Project
, our first and continuous call is to go to our knees in prayer, asking God to work through our weakness to bring the strong message of the Gospel to our neighbors, to give us boldness to say "Hello!" and compassion to demonstrate love and care for the lost.
Thank you, Bethel Family, for embracing the challenge to RISK more, REACH more, and MAKE ROOM for more in Fergus Falls, Battle Lake and Boudamasa, Chad!
Grateful to serve you,
Daryl Synstelien, Chair
Bethel Elder Board