Look through Bethel's Annual Report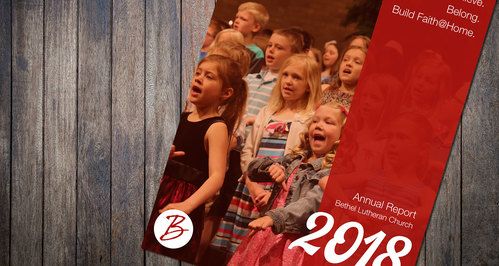 First, a word about this report…
This report can't possibly tell the whole story of what God has been up to at Bethel, nor does it attempt to. The story of 2018 is more than a written report can tell. The story is written in the fabric of our lives, shaped and influenced by the Gospel. Often churches are measured by the "3 B's": Bodies, Budget and Buildings.
We don't believe this is the measure of a church at all.
These measurements ask,
"How many people were there?"
"Was giving sufficient to support the mission of the church?"
"Is our facility meeting the demands of ministry and projected to meet those needs in the future?"
Those are important questions and the answers are informative, but as the Gospel is given, its results are far reaching and somewhat defy measurement. Contained in this report you'll find lots of "3 B's" type of information.
Read it.
Pay attention to it.
But look deeper, see the activity of God among us and join us in giving him thanks.
"To God be the glory, great things he hath done."
Pastor David Foss
Lead Pastor